Many a Little Scheme
Many a Little Makes a Mickle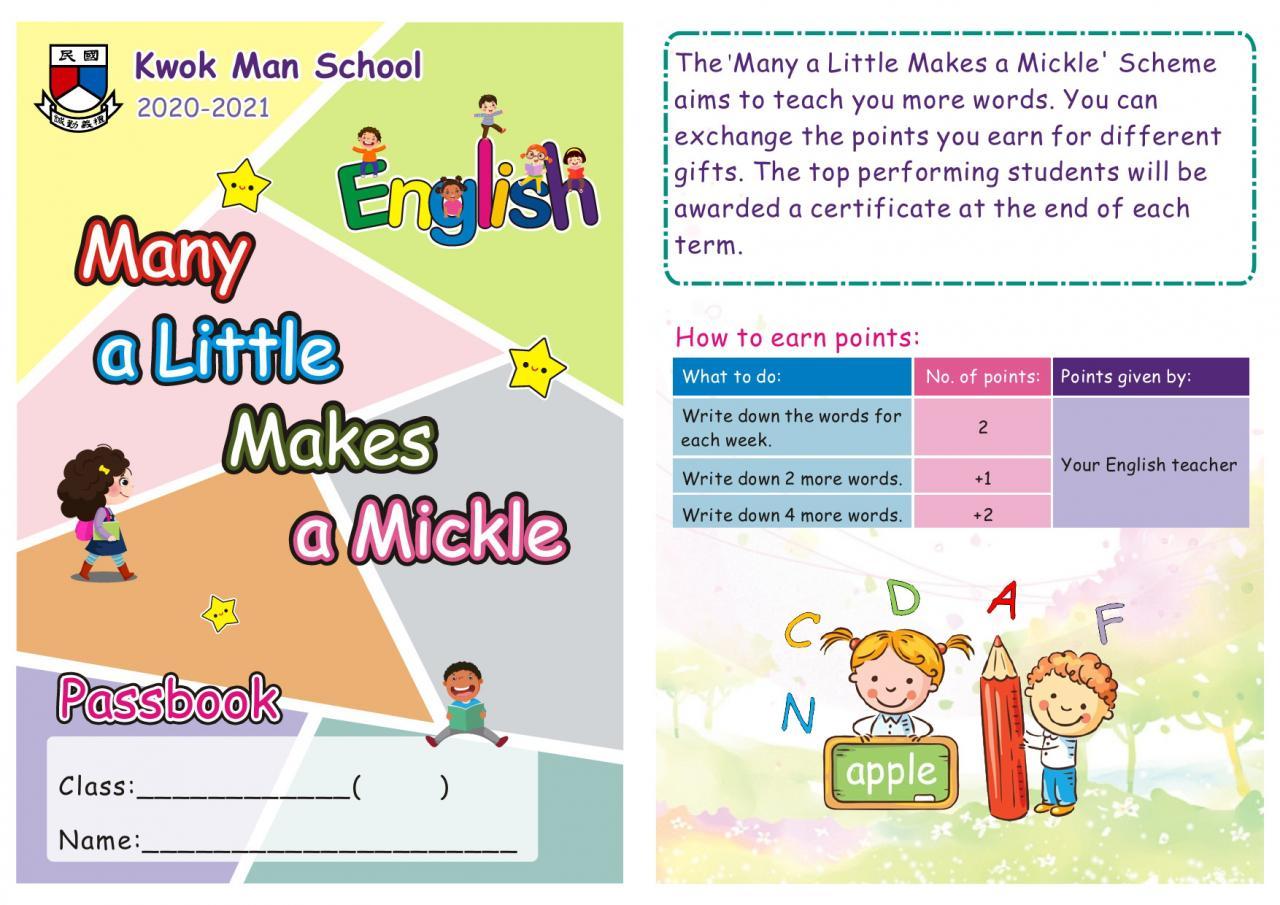 Week 35: Theme: br- blends: bright, brown, brief, brilliant, brain, and brave
Week 41-42: Theme: -ful Words: careful, beautiful, colourful, useful, wonderful, and helpful
Week 40: Theme: Adjectives to Describe People: patient, confident, pretty, smart, honest, and brave
Week 39: Theme: Thinking Words: understand, know, imagine, think, believe, and remember
Week 38: Theme: Compound Words: toothbrush, starfish, snowman, sunglasses, raincoat, and cupcake
Week 37: Theme: Places: bank, temple, park, cinema, market, and shop
Week 36: Theme: School: exam, test, textbook, student, group, and study
Week 34: Theme: Fr blends: freeze, front, free, fresh, friend, and fruit
Week 33: Theme: -ful Words: awful, peaceful, successful, meaningful, and painful
Week 30: Theme: Time: hour, day, week, month, and year
Week 28&29: Theme: Jobs: reporter, editor, engineer, designer, and photographer
Week 27: Theme: Vehicles: car, van, bicycle, train, and truck
Week 26: Theme: Drinks: juice, tea, milk, water, and coffee
Week 23: Theme: Ordinal Numbers: fourth, fifth, sixth, seventh, and eighth
Week 22: Theme: Menu items: dinner, beef, chicken, drink, dessert
Week 21: Theme: Sports: football, tennis, cycling, skiing, and polo
Week 20: Theme: Actions: teach, listen, pick, draw, and catch
Week 19: Theme: Colours: blue, green, yellow, purple, and black
Week 16: Theme: Emotions: upset, scared, proud, and grateful
Week 12: Theme: Animals: bear, lion, rabbit, and cow
Week 11: Theme: Sea Animals: shrimp, fish, clam, and seal
Week 10: Theme: Furniture: sofa, drawer, chair, and bed
Week 9: Theme: Adjectives: flat, rough, tight, and loose
Week 8: Theme: Birthday Words: party, gift, sing, and cake
Week 7: Theme: Long A Actions: say, take, make, and raise
Week 6: Theme: Adjectives: early, late, polite, and rude
Week 35: Theme: br- blends: bright, brown, brief, brilliant, brain, and brave
You have a brilliant brain!
Please try to be brave and try your best.
Can you find a beautiful brown cow?
The sun is very bright.
This is brief.
Week 41-42: Theme: -ful Words: careful, beautiful, colourful, useful, wonderful, and helpful
Please be careful on the playground.
Snow White is beautiful.
Many classrooms are very colourful.
It is useful to study these words.
It is wonderful to use these words.
Please be helpful by helping your teachers.
Week 40:   Theme: Adjectives to Describe People: patient, confident, pretty, smart, honest, and brave
Lily is a smart girl. She has a lot of great ideas.
Ann is a brave girl. She isn't afraid of anything.
Snow White is a pretty princess.
An honest kid doesn't tell lies.
Tim is confident that he will pass the examination.
Kim is patient with her plant. She will take care of it every day.
Week 39:   Theme: Thinking Words: understand, know, imagine, think, believe, and remember
You need to understand these words.
You should know what these words mean.
If you think about them, you can remember them.
I believe you can remember them.
Imagine using the words, and then use them.
Week 38: Theme: Compound Words: toothbrush, starfish, snowman, sunglasses, raincoat, and cupcake
You need a toothbrush to brush your teeth everyday.
Starfish look like stars, and they live in the sea.
Do you want to build a snowman?
I wear sunglasses to protect my eyes from the sun.
A raincoat can help keep your other clothes dry.
Week 37: Theme: Places: bank, temple, park, cinema, market, and shop
You can get money from a bank.
A temple is a quiet and holy place.
You can play in a park.
You can see movies at a cinema.
You buy fruits and vegetables in a wet market.
There are so many shops selling so many things in Hong Kong.
Week 36: Theme: School - Many a Little Makes a Mickle Video
You need to study for your exams in June.
You might have a test after this unit.
Your textbooks can help you study.
Students need to use their textbooks to study for their exams.
Many projects can be done in groups.
Week 34:   Theme: Fr blends: freeze, front, free, fresh, friend, and fruit
When water is 0°C and below it will freeze.
Students need to look to the front to see the board.
We give away free prizes during our lucky draw.
You can buy fresh fruit at the market.
You can share fresh fruit with friends and family.
Week 33: Theme: -ful Words: awful, peaceful, successful, meaningful, and painful
Are you ready for some meaningful words?
You need to study these words to be successful.
I hope our learning time is peaceful.
Learning is fun not painful.
It would be awful if you forget these words.
Week 30: Theme: Time: hour, day, week, month, and year
One hour is sixty minutes.
What day is it?
What school week is it?
What month is it?
What year is it?
Week 28&29: Theme: Jobs: reporter, editor, engineer, designer, and photographer
What do you want to be when you grow up?
Do you want to be a news reporter?
Do you want to be an editor that edits articles?
Do you want to be an engineer that helps build things?
Do you want to be a designer that decides how things should look?
Do you want to be a photographer that takes amazing photos?
Week 27: Theme: Vehicles: car, van, bicycle, train, and truck
Do you ride your bicycle to school?
You can take a fast train to Shenzhen.
Most people in Hong Kong don't own a car.
A van can help you move a few things.
A truck can help someone move many big things.
Week 26: Theme: Drinks: juice, tea, milk, water, and coffee
What do you like to drink?
I love to drink water.
Joe likes drinking juice.
Mr. Wong likes to drink tea.
Do you drink milk in the morning?
Does your mom or dad drink coffee?
Week 23: Theme: Ordinal Numbers: fourth, fifth, sixth, seventh, and eighth
The first school week of 2021 started with the 4th of January. 4th means fourth.
The second school day of 2021 was the 5th of January. 5th means fifth.
The third school day of 2021 was the 6th of January. 6th means sixth.
The fourth school day of 2021 was the 7th of January. 7th means seventh.
The fifth school day of 2021 was the 8th of January. 8th means eighth.
Week 22: Theme: Menu items: dinner, beef, chicken, drink, and dessert
What do you like to eat for dinner?
Do you like beef or chicken more?
What do you like to drink with your food?
Do you usually have dessert after dinner?
Week 21: Theme: Sports: football, tennis, cycling, skiing, and polo
What sports do you like?
I like football because I like running, kicking, and playing with many other people.
Tennis is a nice outside game played with a soft yellow ball.
Cheung Chau is a great place for cycling, and bicycles are everywhere.
Many people like to go skiing in Japan during the winter.
Polo is a sport that is played while riding horses.
Week 20:   Theme: Actions: teach, listen, pick, draw, and catch
Let's talk about actions. Your teachers can teach you many things if you listen. You can pick which homework you'll do first. After you finish your homework, you can draw some nice pictures. You could also play catch with a ball.
Week 19: Theme: Colours: blue, green, yellow, purple, and black
Do you know all the colours of a rainbow?
The sky is blue.
Grass is green.
Corn is yellow.
Eggplants and plums are purple.
Coal is black.
Week 16:   Theme: Emotions: upset, scared, proud, and grateful
Your emotions are how you feel. Do you get upset from bad marks? Are you scared of some animals? You should be proud when you get As. Finally, you should be grateful to live and study in Hong Kong.
Week 12:   Theme: Animals: bear, lion, rabbit, and cow
What animals do you know? Are you scared of bears? A lion's roar is very scary! However, rabbits are cute. Many cows live on farms.
Week 11:   Theme: Sea Animals: shrimp, fish, clam, and seal
Do you like sea animals? Many people like to eat shrimp, but you need to take off their shells, legs, and tails before you eat them. Many people also love steamed fish, but they need to be careful not to eat the fish bones. Clams can also be found in the sea, but they look like smooth rocks that need to be opened to be eaten. If you want to see real seals, you can see some at Ocean Park.
Week 10:   Theme: Furniture: sofa, drawer, chair, and bed
Many of the movable things that make a place ready for living or working are kinds of furniture. A sofa is a nice thing to sit on. A drawer can be pulled out and pushed back in. A chair is a great thing to sit on, and usually we sit on a chair in front of a desk or table. Finally, a bed is a great thing to lay down on and sleep on.
Week 9:   Theme: Adjectives: flat, rough, tight, and loose
Your desk should be flat.
Many surfaces outside are rough, so you should wear shoes.
Do you like your clothes to be tight or loose? Tight clothes hug your body, but loose clothes have lots of extra space.
Week 8:   Theme: Birthday Words: party, gift, sing, and cake
Do you have a birthday party every year? You can receive gifts. You can sing your favourite songs. Finally, you can eat a yummy cake with your friends and family.
Week 7:   Theme: Long A Actions: say, take, make, and raise
A magic 'e' can make a 'long a' sound like in 'make'.
Do you know how to say the 'long a' sound?
You should raise your hand to ask and answer questions during your lessons.
When you leave school, you need to take your homework home.
Week 6:   Theme: Adjectives: early, late, polite, and rude
Do you get to school early? You shouldn't arrive late. It is polite to arrive early, but it is rude to arrive late.